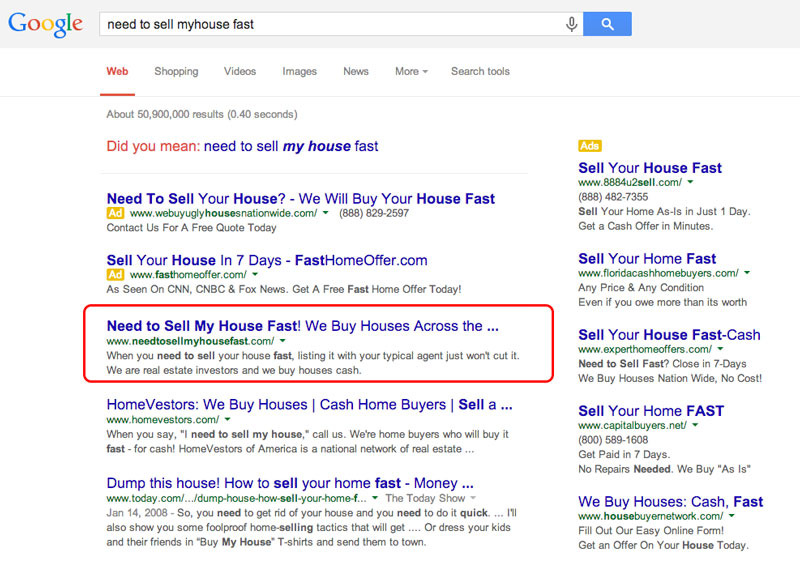 Seo Real
How SEO Can Help Real Estate Investors and Realtors
Do you have a real estate website you need to promote online? Well, I have something to show you! Go to Google and type "need to sell my house fast." Most likely you will see my website, needtosellmyhousefast.com ranking #1. Well, it wasnt easy but there you have proof of what I can do in the real estate niche. It took about 4 months to rank for that very competitive keyword, and this site is now bringing in average 20 leads per day.
Real Estate SEO Website Competition
I am telling you this because if you are a realtor or an investor and need to get a website ranked for your market, I am offering my services. I would be using the same white hat techniques used to rank my own site, and you will get ranking for years. Ranking nationally is not easy, but if you choose a state, we can get your site up in the SERPs in no time (as long as your site is not penalized of course).
Give me, David a call at (786) 463 4030 if you would like to discuss my seo services for real estate professionals. If you are an investor and don't want to invest in building and optimizing your very own website, guess what, I am partnering up with investors who can service the leads that come through my website, needtosellmyhousefast.com. If you are intereted in getting some of these leads, go to my site and click on the link that says investors at the bottom of the page, While you are there, fill out the form and I will get back to you with pricing details. We can even start you up with a couple free leads so you can get to know me better.
Until next time.