.webp
Product Spotlight: SEO PowerSuite Tools
Hey everybody. Manuel here. Ready to bring you another product review. Our friends over at Powersuite Tools were kind enough to give me a copy of their product, and I want to share my experiences with you guys.
The product we're reviewing is called SEO Powersuite Tools and it's actually composed of four different items, which are Rank Tracker, SEO Spyglass, Website Auditor and Link Assistant.
Now, each of these tools serves a unique role, but what they all have in common is their ability to collect, analyze and interpret large amounts of data, and convert them into easy-to-understand charts and reports for your SEO campaign.
This may not sound like much, but if you've ever had run your own SEO campaign then you know what I'm talking about. Search Engine Optimization covers all sorts of information and I doubt most of us enjoy sifting through them. Well, SEO Powersuite Tools makes everything easier, and here's how.
SEO Powersuite Tools in Action
I used SEO Powersuite Tools mostly for analyzing my target keywords related to "SEO Miami." I also spent most of my time experimenting with its various features and figuring out what the data was trying to tell me. 
After spending a few minutes with the system, I figured out how it all works. First, I used the Rank Tracker to track hundreds of keywords related to SEO Miami. I then converted the data into customized reports based on my target metrics, and then I looked at the charts to see where I was at compared to my competitors. I also used the recommended links and SEO data to make some changes in my overall SEO strategy. 
I can't say I mastered everything that Powersuite Tools had to offer, but I got what I wanted out of them and they were very useful. I also got a lot of results for my target key term, "SEO Miami," including stats, rankings, number of searches and a specialized progress graph. Each piece of information helped me to enhance my SEO campaign and I love all the help that it gave me.
Rank Tracker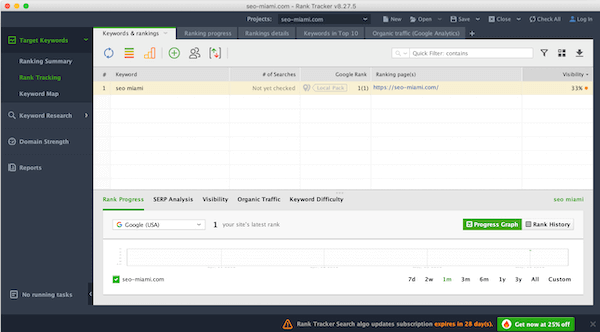 Rank Tracker is arguably my favorite tool in SEO Powersuite Tools, and this is because it does more than just track your page ranking. It also offers ranking summaries, keyword maps, keyword research tools as well as domain strength analysis. Because of these features, I use Rank Tracker more than any other item in SEO Powersuite Tools.
But first, let's talk about what Rank Tracker has to offer. The best thing about this tool is its rank monitoring features. I like the fact that it allows you to track different keywords across different search engines while providing you with detailed charts to track your SEO campaign's progress. This feature is important because it allows users to look at the big picture and adapt their strategy when necessary.
It also allows me to customize the data, based on my needs and overall SEO strategy. I am also able to compare different sets of traffic data with one another, whether they're different groups of keywords or even individual web pages.
And for local SEO-related tasks, geo-specific rankings allow users to optimize their geo-specific SEO strategies by analyzing rankings based on locations. All you need to do is provide a preferred location and a language filter, and the system will put together a report that will help you identify the best keywords to optimize your local SEO strategy.
However, what I really like about the Rank Tracker is its customized ranking reports. These reports offer large amounts of useful information, including a percentage of my website's ranking, a visibility graph which tracks its progress and a keyword ranking summary that interprets all the information for you. For anyone who maintains a robust SEO campaign, such information are not only important, they can spell the difference between success and failure.
But the reports don't end there. On the keywords and rankings tab, I had access to Rank Progress, SERP Analysis, Organic Traffic, and Keyword Difficulty. Rank Tracker, all of which allowed me to update traffic stats, manage SEO data and add keywords whenever they needed to be altered. This adds flexibility to the system and allows SEO managers to alter their search metrics at a moment's notice.
Other tabs, like Organic Traffic, Keywords in Top 10 and Ranking Details, also offer valuable information, but I found them most useful for making comparisons and analyzing rivals who also happen to be targeting the same keywords as I am. There's even a "Show Competitors" page for when I needed to look at how well I'm doing against other players in my niche.
Finally, on the Keyword Research View tab, Rank Tracker offers a charting features which tracks the user's progress. We've mentioned charts before, but it's worth giving its own special section nonetheless.
Rank Tracker's charts are awesome. They spared me from having to look at long tables and reports by summarizing the data into simple charts. I can also alter each chart according to my strategy as well as compare different keywords, sites and rankings with the push of a button. So all in all, a great tool.
We focused a large part of this review on Rank Tracker, and that's because it deserves the attention. SEO Powersuite Tools offer four tools but the Rank Tracker is definitely its leading part or at least my favorite one. That's not to say that the other tools are worthless, but they function more like support features for Rank Tracker. The Spyglass, the Auditor and the Link Assistant are best used to feed additional data into the Rank Tracker to create a comprehensive report that will enhance any SEO campaign.
SEO Spyglass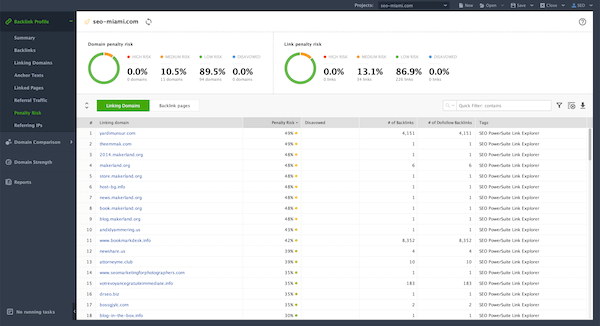 SEO Spyglass is the second component of SEO Powersuite Tools, and it's designed to analyze various links based on a user's criteria. I only used to analyze all kinds of backlinks, but it can also be used to filter more sophisticated types of search terms, which I used for certain variants of "SEO-Miami."
For example, it includes a filtering feature to screen data that I needed and data that I didn't need. It's also designed to enhance search engine safety, and may be used behind a proxy. However, its most important feature is that it allows users to organize backlinks into an easy and convenient "tree-like catalogue," which you can then use to enhance your SEO campaign.
The export feature is likewise useful but only if you need to use all kinds of formats. All in all, SEO Spyglass works as a good compliment tool for the rest of the SEO Powersuite Tools, and a great asset if you're planning to work with all kinds of backlinks for your project.
Website Auditor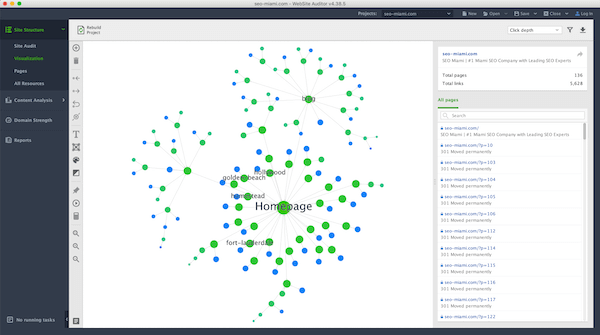 Website Auditor is an interesting tool for testing ON-Site SEO websites and ongoing SEO campaigns. I used its crawl stats and social signal analysis to optimize some content as well as create new ones.
Its most useful feature, however, is that it helped me integrate my website with my SEO campaign. Rank Tracker, SEO Spyglass and Link Assistant may be useful for developing an SEO campaign but Auditor is the tool that makes sure that they all work properly. I took Website Auditor and used it to scan every aspect of my SEO campaign and I'm pleased with the results.
As mentioned before, it can give you detailed crawl stats and identify broken links/pages but it can also do more than that. It can be used to analyse traffic and optimize page content, both of which are crucial for SEO.
Finally, the Website Auditor offers site audit reports were they provide me a lot of useful information about my SEO campaign. 
Link Assistant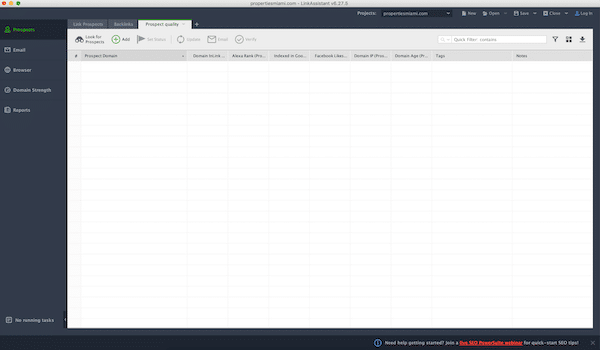 Link Assistant offers several important features, including Link quality analysis, email marketing support and link management. It also offers backlink reports for when you need additional information on your link building campaign. All these features were put together to provide users the means to automatically verify their backlinks and to make sure that they bring SEO value.
The trouble, though, is that I had to do a lot of trial and error in order to figure out what the system was trying to tell me. I eventually figured out what I needed to know but I spent a good amount of time trying to figure out how the links being given to me were related to Miami-SEO. Eventually, I figured out what I doing wrong and I managed to create a better backlinking strategy because of it.
So that's basically what Link Assistant is all about. It's a little tricky but it can also be useful once you figure it out.
Conclusions
All in all, I liked my experience with SEO Powersuite Tools. I found some of the tools very useful. In any case, I liked the results and it provide me with a lot of helpful information about my target keyword. What I liked most, though, is the Rank Tracker. All products were great in general. 
Other SEO tools offer similar services but they are rarely as comprehensive as the tools offered by this package. Each component of SEO Powersuite Tools specializes in a particular area of SEO, which leads to better results and more specialized information.
So I highly recommend SEO Powersuite Tools to anyone who is in the process of running an SEO campaign. Not only can it help you get better results from your activities, it can also help make your work easier in the long run.