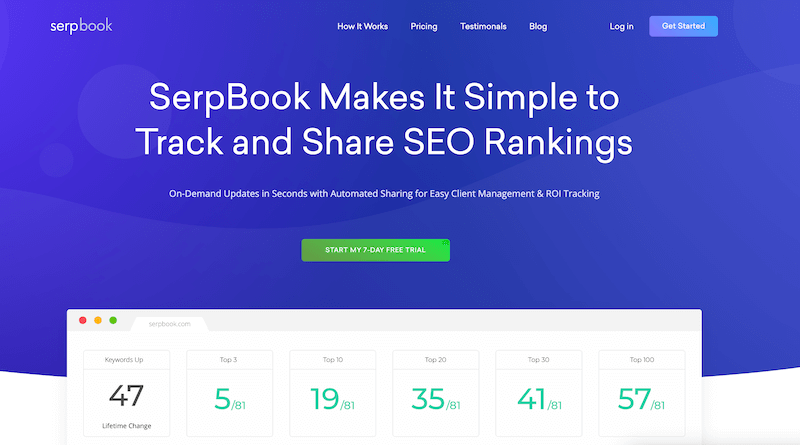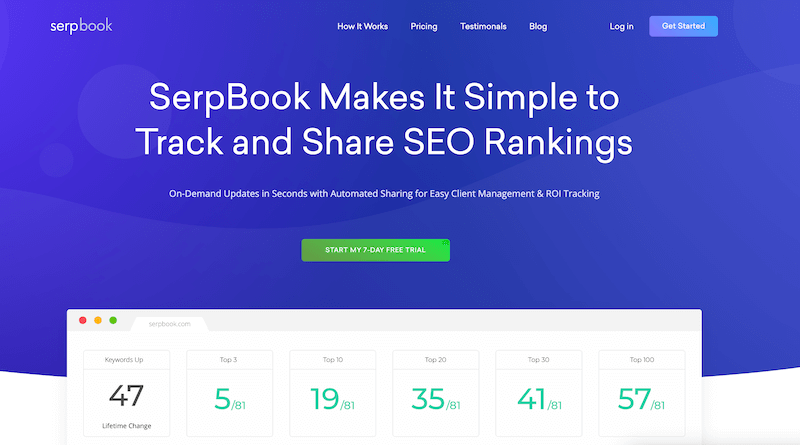 .webp
Product Spotlight: SerpBook Rank Tracker
What makes a powerful rank tracker? For starters, not all people have the capacity to fully understand and appreciate the differences between various rank trackers no matter how impressive their features may sound. The more you explore what they can actually do and offer, the more it becomes challenging to decide which rank tracking tool would best meet your needs and expectations. For an average user, simplicity, accuracy, and functionality are all that matters. And that is exactly what serpbook.com can offer.
Simplicity is – and will always be – the most Desirable Feature
Basically, SerpBook can be classified as Software as a service or SaaS which means that it works as a subscription-based model. Compared to traditional software, it offers a more practical approach because the software is cloud-hosted and is accessible via the internet. It also offers highly useful and innovative features without complications. For anyone who wants a practical yet fully-functional rank tracker, SerpBook could be a top choice because it's easy-to-use, straightforward, works fast, and has constant updates.
Now, let's explore the powerful features of SerpBook as well as the key elements that made it the top choice among online business owners. Here's a little secret; numerous feedbacks had been gathered relative to the use of this tool. Most users literally dumped their old rank tracker in favor of SerpBook and it's easy to understand why. Now let's find out and dissect the aspects that make this rank tracker a complete standout.
Fast and Accurate Reports
We live in a fast-paced world run by fast-paced technology. It is natural to want something that can keep up with our ever-changing needs and demands. SerpBook is a rank tracker that can exceed your expectations mainly because it delivers fast and accurate reports. You can actually gather more data because you will automatically get updated ranking every 2 hours or so without having to exert effort. This can save you a lot of time in reporting keyword performance. And since you can set or schedule automatic reports, you have the freedom and flexibility to export or send out reports as frequently as you want or depending on your own preferences.
Reveals search results for Google, Yahoo, and Bing
If you have read about SerpBook before, then this is something that you're perhaps completely aware of. In fact, this could be the main reason why you're investing on rank tracking tools and/or services in the first place – to know where your business stands in various search engines. This is literally one of the features that make this tool highly comprehensive. It shows actual search results for Google, Yahoo, and Bing which impressively provides you the clearest picture of where your position is. This full and advanced search engine coverage allows you to monitor your business through an easier and much simpler approach.
You can also verify the results because SerpBook is actually recording their rank checks. You can simply click on the spyglass icon that's next to a keyword to view a screenshot of how their system checks search engines and how it verifies the position in search results.
Provides Detailed, Easy-to-Read and Clean-looking Graphs
Actual charts and graphics are clean, simple but very detailed. It is ideal for users who don't like too many things right in front of their eye. It reveals only the data that you want to see at a given time – or needless to say, what is relevant to you. Graphs are easy on the eyes which make them easier to understand, interpret and analyze. The simplicity of this tool makes the process of monitoring uncomplicated and easy thereby ensuring a superior and premium experience for every user.
One of the characteristics of SerpBook that is easily visible to the eye is the tidiness of its layout. A clean, simple and nice-looking interface count for a great deal of productivity and functionality. Best of all, finding what you're looking for is so much easier since everything that's important clearly stands out.
Categorize Websites and Keywords
SerpBook is for people who want to keep things clean and organized. This makes reporting a satisfying aspect and in fact, this is one of SerpBook's most commendable features. You can conveniently customize each column and identify which ones to be displayed. It offers an organized system – from entering keywords to setting a schedule for the first report. Basically, you can break up keywords into specific categories and create a different category for every website or keyword type. This is one of their most functional and highly integrated feature because you can utilize it however you want to especially if you want to organize your clients.
This feature also makes it easier for you to track reports for every client. You can organize your clients or websites in different categories by simply tagging the keywords. This process of grouping and organizing enables you to create and share reports quickly on keyword performance to all concerned parties for transparency and actual updates.
While Labelling for All Features
As mentioned earlier, SerpBook is a rank tracking tool that offers the easiest and quickest interface for reporting. Another feature that you will appreciate is that you can customize the reports and white label them so you can use your own unique branding. Otherwise, you also have the option to keep it as it is – clean, neat and unbranded.
Here's another fact that makes SerpBook an original; it is the first Software as a Service (SaaS) rank tracker to ever launch and introduce this feature. You have the option to white label almost every aspect such as all the PDF reports sent to your email and even your dashboard. This feature can be considered a hallmark since the developers had put so much consideration to make sure that you get the most out of their service to the point of allowing their users to be discrete about it.
Customer Support
Available options for customer support are a live chat and email messaging. SerpBook's customer support team is 100% reliable and helpful based on personal experience – this I can truly guarantee. So if you're a newbie or someone who's unfamiliar with how the rank tracker works, you can count on this service to help you sort things out. Here's the deal; customer support is one of their notable features because you can always count on their help and assistance.
We all know that when it comes to these tools and services, customer support is a major thing. Regardless of how impressive service or product is if it doesn't offer a reliable and dependable support system, it is not worthy of recommendation. SerpBook takes that extra mile in assisting all their clients to ensure that we all get the best experience.
Conclusion
I highly and absolutely recommend serpbook.com for all its powerful and intuitive features. It defies the norms in rank tracking for its simplicity, functionality and fast results. It doesn't take an experienced user to understand how it works and delivers results. So if you're easily intimidated or confused by rank tracking software which you have to purchase upfront in a package to be installed in your computer, you can skip all that and go for SerpBook.
SerpBook can offer you the easiest and most comprehensive head-start in SERP which, by the way, also guarantees accuracy and transparency. If you want to have a full hands-on experience first, SerpBook offers a 7-day Free Trial access plus a money back guarantee within 14 days. Believe me when I say that this is something that you'd definitely want to try and experience; and you can use it for a long, long time to track your business ranking online at any given timeframe.